Kate and I enjoyed two and a half great Seattle bands last night at Neumo's in Capitol Hill (stood center stage in the front row as well).
Starting off the night were the Royal Eyes who claimed this was their first official show ever.

That is amazing because they played far better than many established bands I have endured in the past.

They say they are Seattle based, they have a Twitter account with 18 followers, and they have a Facebook page which 41 people like.

This is everything I know about them. Well, the lead singer also has some sort of British Isles accent going for him which makes me want to ask him about the Seattle connection.

We lifted a poster from the show afterwards so now we have proof that we were at the very first public Royal Eyes appearance ever.

I was thinking during their set on how hard it would be to be the manager of a band.

There is no way these guys have representation so what would it take?

Get them in the studio and cut a demo, line up some gigs, beg KEXP to play them (maybe a song of the day), perhaps an excursion to Portland, etc…

The reason why it would work is because their music is really good.

They are a quartet who produce an alt-rock, folk sound and I will keep my eyes peeled on the music pages of the Stranger and Seattle Weekly to find when/where their second show ever is.
I didn't realize I had heard of the second band of the night until their last song, 'Movers Shakers Makers'.

The Redwood Plan is also a local Seattle band fronted by a very energetic Lesli Wood aka Ms. Led.

She does a very interesting form of step aerobics while singing and takes breaks to play the synth.

The reason I have heard of them before is because their song 'Movers Shakers Makers' was a KEXP Song of the Day back in August 2008.

I think that song even made my CD for tunes I was listening to that month.

In the past, they've played the Capitol Hill Block Party, Bumbershoot, and Austin's SXSW.

The reason they were only half great though is because their set was just ok.

Ms. Led's energy was certainly appreciated but the music didn't match her intensity.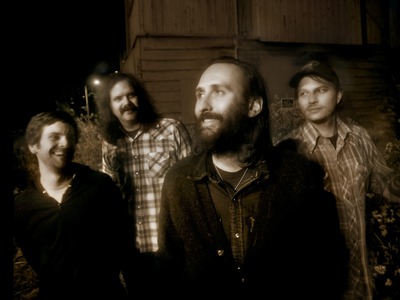 Finally, the headliner, Grand Archives, put on a hell of a good show.

A few bands sound exactly like they do on disc.

Band of Horses is the winner when it comes to that, but Grand Archives is on that list as well because somehow they can replicate their complex harmonies in front of a crowd.

Perhaps this is because lead vocalist/guitar player Mat Brooke left Band of Horses back in 2006.

They played 'Sleepdriving' halfway through the set list and it was even better than the recorded version.

They chose not the play the hard switch in the middle of that song and kept right on with the harmony layers which make that song one of the best songs from the past few years.

One sour note though, they did not play 'Silver Amongst Gold'.

Kate did not seem to mind since they played her favorite song 'Oslo Novelist'.